-- John McClaren is the manager of the Seattle Mariners. In April, thus far, he has allowed a 22-year-old who missed over a month last year with arm troubles to throw the following number of pitches in four straight starts (culminating with today's effort): 117, 115, 110, 115. Today, he leaves him in there to start the eighth even though he'd already thrown 90+ pitches. Okay, I suppose that's reasonable, so long as he's on a short leash.
And what happens? McClaren waits until Felix throws about 20 more pitches, allows two runs, and then yanks him with the bases loaded. Predictably, the Seattle bullpen allows all the inherited runners to score. On the season, King Felix has allowed eight earned runs when he's thrown 91 pitches or more and only three earned runs otherwise. These are the kinds of stats we fantasy geeks are aware of, yet professional, highly paid managers are apparently clueless. Also: why in god's name wouldn't you use J.J. Putz in that situation? Johnny Moron, you do know that you're allowed to use your best reliever before the ninth inning? Right?
McClaren, see the photo below? You're the bitch on the left, and that's the spirit of all Felix Hernandez owners on the right: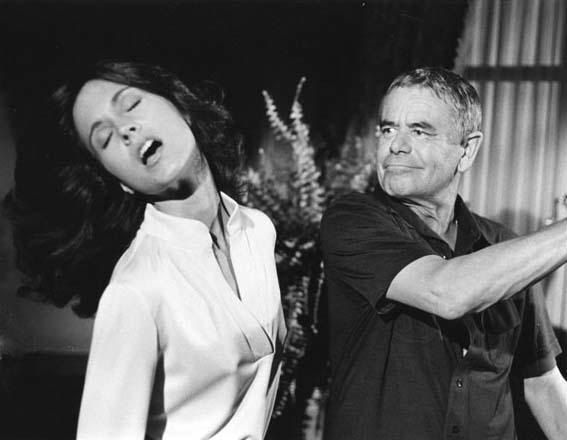 -- I'm sure Peavy owners are pissed that he continuously faces Brandon Webb. In fact, I think the two have pitched against each other 17 times already. Webb once again comes out on top. That's one of the hidden problems of drafting number-one starters, folks -- they're typically matched against the other side's ace.
-- John Smoltz gives up four runs in four innings and complains of shoulder soreness. If he comes back and looks healthy for a start or two, I'd sell.
-- Mike Jacobs hurt either his finger or his wrist (I've heard conflicting reports) and sat out today. His April for the fantasy history books may be over, folks.
-- Max Scherzer was called up today. Yay! No idea whether he'll be starting or relieving, but I'm buying. Immediately. Unfortunately Yahoo hasn't added him yet, which means that people who do their homework will be punished while those who wait for Cueto-type initial starts will be rewarded.
-- Adam Lind was called up yesterday. AL only and deep leaguers, be aware he's hit for both power and average in the minors.
-- Barry Zito is now 0-6. That's real, real bad. He should be cut in even deep NL-only leagues at this point. He allowed 10 base runners and eight earned runs at home. In April. Against a team (Cincinnati) that's loaded with left-handed sluggers. Streaming pitchers against Barry Zito has become a viable strategy. I don't know if it's true, but message-board chatter says that his fastball was topping out at 82 and S.F. turned off the radar gun readings. If so, that's hysterical.
Zito's inching closer to winning the "worst contract, if you exclude injuries, ever given to a professional athlete" award. You can cherry pick players whose careers/seasons were cut short by injuries and say that they were "worse" than Zito, but in terms of sheer awfulness, I can't think of any contenders. Can you?
-- Sorry C.C. owners, no win for you. You'll have to content yourself with eight innings of one-run, eight-strikeout ball. I'm still waiting for people to chime in and say, "I listened to you Mike and bought low, and now I can afford insulin for my children. God bless you."
-- I'd sell high on Longoria. The home run barrage can't continue, and his minor league numbers don't indicate that he's suddenly going to hit closer to .300 than .250.
-- If I woke up tomorrow with my head stapled to the floor, I wouldn't be more surprised than I was at seeing that Vicente "my flotilla sunk a few years ago" Padilla had tossed a complete game, with seven hits and no walks, against Minnesota.
-- C.C. got all the press, but I would be much more worried about Verlander (if I owned him) than I ever would have been about C.C. (if I owned him back when he sucked). You've got a real problem on your hands, folks. His velocity is still down, and his location is still up. The result: 6.50 ERA and an untradeable commodity which smart owners don't want to buy low on.
-- Manny Corpas picked up the loss today. I'm stashing him on my bench, but unless Fuentes is traded, I don't see him getting the job back pre-All-Star break.
-- Jorge Posada heads to the DL with a tear in his subscapularis muscle. Good thing the Yankees locked him up after his career/contract year exploits.