Quite a few people have emailed asking whether or not Cueto, the Reds phenom, is ultimately going to be more valuable than Quato, the mutant leader of the Martian rebels in the Arnold Schwarzenegger/Paul Verhoeven masterpiece
Total Recall
. Let's look at each of them and see what they have to offer.
Background InformationCueto
Johnny Cueto rose rapidly through the ranks of the Cincinnati Reds minor-league system. His K-rate was breathtaking, and he dominated at every level. There's a concern that he's a flyball pitcher who has been called up to a flyball park, but that isn't stopping folks from acquiring and valuing him at a fever (and unsustainable) pitch. He boasts an overpowering fastball, wicked breaking balls, and unusually good control for a rookie.
Quato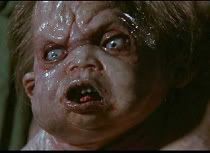 Quato's mysterious origins are the result of his unusual birth. He's essentially a parasite growing from the stomach of his host brother, and that adds to his deception. His focus is legendary. His only goal is to free Mars. Not a pretty player by any means, but one with wisdom that belies his small frame.
Advantage: QuatoPhysical AttributesCueto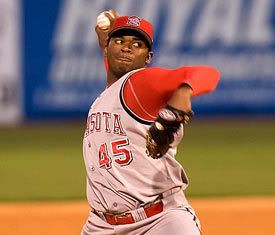 Cueto's 5'10", weighs about 185, and is right-handed. Cueto was born in the Dominican Republic, and for some reason Major League Baseball and civil rights activists don't believe he and others from the Dominican Republic qualify as "black" players.
Quato
Quato is perhaps two feet long, though that is somewhat difficult to discern consider that much of him has mutated into the abdominal wall of another person. His pupils are irregularly shaped, his hair unsightly, and he lacks usable legs. But, when you clasp his hands, it will help you open your mind.
Advantage: Cueto
Short Term Projections
Cueto
I think Cueto will not live up to his first few starts. As players get used to his weaponry, and as he begins pressing to avoid flyballs in Cincy's amusement park stadium, you'll see him become more human. This may have already begun as he gave up five runs and two homers in his last start. He'll be an above-average pitcher assuming he doesn't get hurt -- always a risk with Dusty Baker -- but his trade value will almost certainly be greater than his true value. He has thrown 92, 96, and 85 pitches in his three starts, so hopefully he's on some sort of sub-100 pitch count.
Quato
Quato has managed to hide his rebellion in plain sight of the Martian authorities. He has also managed to convince an amnesiac former oppressor to switch sides and help him activate ancient alien machinery that will result in oxygen flooding the surface of the planet and making it livable. Now that Cohaagen has got what he wants, Quato sees no reason why Cohaagen shouldn't give da' people da' air.
On the downside, Quato may just be a figment of someone's imagination caused by a schizoid embolism, and he and the rest of his reality will vanish after a lobotomy is performed.
Advantage: Cueto.Long Term ProjectionsCueto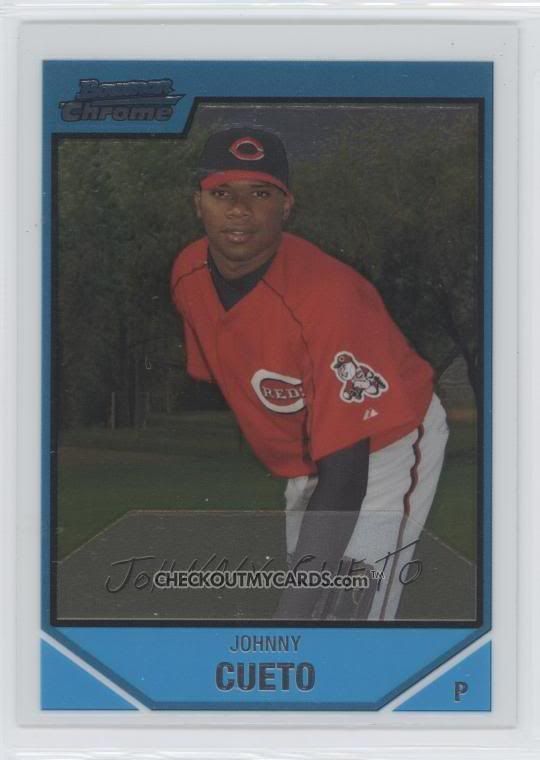 Cueto has the stuff to be a dominating starter in the Majors. But how often do guys with dominating stuff pan out? Injury risks abound, particularly when playing for Dusty Baker. Just look at Kerry Wood, Mark Prior, and to a lesser extent, Carlos Zambrano post-2003. Cueto was an excellent speculative acquisition for your team, but don't go thinking he's automatically an elite player.
Quato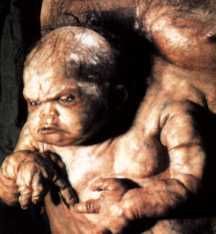 Not good. Quato will probably fall victim to a bullet to the head due to his nefarious activities, and he and his host will almost certainly have chronic and continuous lower back problems due to the fact that their conjoined physiques are not conducive to playing sports. He also seems to lack the necessary number of digits, physical stature, and coordination that playing baseball would require.
Advantage: CuetoInjury WorriesCueto
Overuse. Dusty Baker. The normal host of pitching maladies that seem to come out of nowhere.
Quato
How long can miniature mutants live when engaged in open treason? Probably right up until Richter finds them, shoots them, then heads to a party.
Advantage: Quato.
The "Dusty Baker factor" tips the scales in Quato's direction.
Final Analysis
Cueto by a landside. While Quato has had some amazing accomplishments, I don't think we can expect a sequel. At least, not with him in it.